Abstract
Temperaturae globalis magis magisque augentur, ducens ad mutationes significantes in microbiali diversitate et ecologia. In hoc studio investigatores fungorum et fungos (Oomycota) ab aquis dulcis ambitibus Coreae seiunctis segregantur et fungis et fungi-similes coetus culturae identificantur; morphologica, et multilocus analyses phylogeneticas.Hoc studium confirmat fungos acerrimos tolerantes et oomycetes in Corea praesentiam et suggerit condiciones climatis Coreani in favorem harum specierum mutari.Hoc indicat calefactionem climatis distributiones microbiales in ambitu aquae dulcis alterare.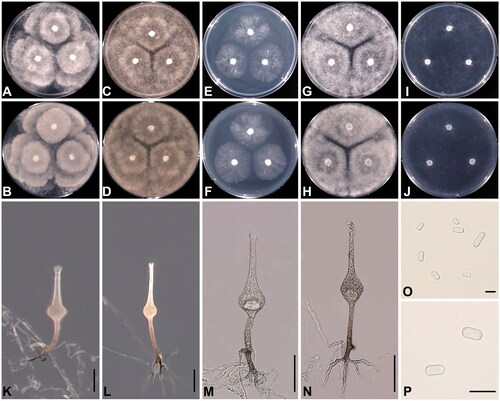 Fig. Cultural and morphological characteristics of Saksenaea longicolla sp.nov.NNIBRFG21789 (SAK-07) in PDA (A, B), V8A (C, D), CMA (E, F), MEA (G, H), et CZA (I, J) post 72 h ad 25°C. A, C, E, G, I: animadvertuntur B, D, F, H, J: contra visum).Microscopicae structurae: sporangiophore sub microscopio stereoscopico (K, L) et sub microscopio levi (M, N), sporangiosporae (O, P).
Analysis imaginandi technology
De strepitu ReadoutDhyana 400DCelectronica tantum 2.0, quae tantum tertia pars illius instrumenti scientifici ametis traditi CCD, et proportio signo-ad-vocum inauditum alte attingit.Sive in campo splendido sive in obscuro agro, effectus stabilis refrigerationis signanter minuere potest obscurum currentem, rationem ad strepitum emendare et imaginem qualitatem et suavitatem emendare.1.2 "Latius visum est microscopio observatori praebet, directiorem plenam visum campi praebens. 6.5µm elementa sunt specimen magnitudinum pixeli pro summo NA 100x, 60x, et 40x microscopiorum proposita, meliorem localem samplingem et sensum praebentes. .
Reference fons.
Nam B, Lee DJ, Choi Y J. High-Temperate-patiens Fungus et Oomycetes in Corea, Saksenaea longicolla sp.nov[J].Mycobiology, 2021, 49(5): 476-490.