Abstract
Many preclinical studies examined cue-induced relapse to heroin and cocaine seeking in animal models, but most of these studies examined only one drug at a time. In human addicts, however, polydrug use of cocaine and heroin is common. We used a polydrug self-administration relapse model in rats to determine similarities and differences in brain areas activated during cue-induced reinstatement of heroin and cocaine seeking. Overall, the results indicate that PL may be a common brain area involved in both heroin and cocaine seeking during polydrug use;no significant cueinduced neuronal activation was observed in other brain areas.
Therefore, images from Cg1 and amygdala regions (CeA and BLA) were digitally captured using a Dhyana 400DC camera and mosaic software for Windows, version 1.4 (Tucsen),The imaging area obtained was 1.698 mm2 (1.304 mm x1.302 mm).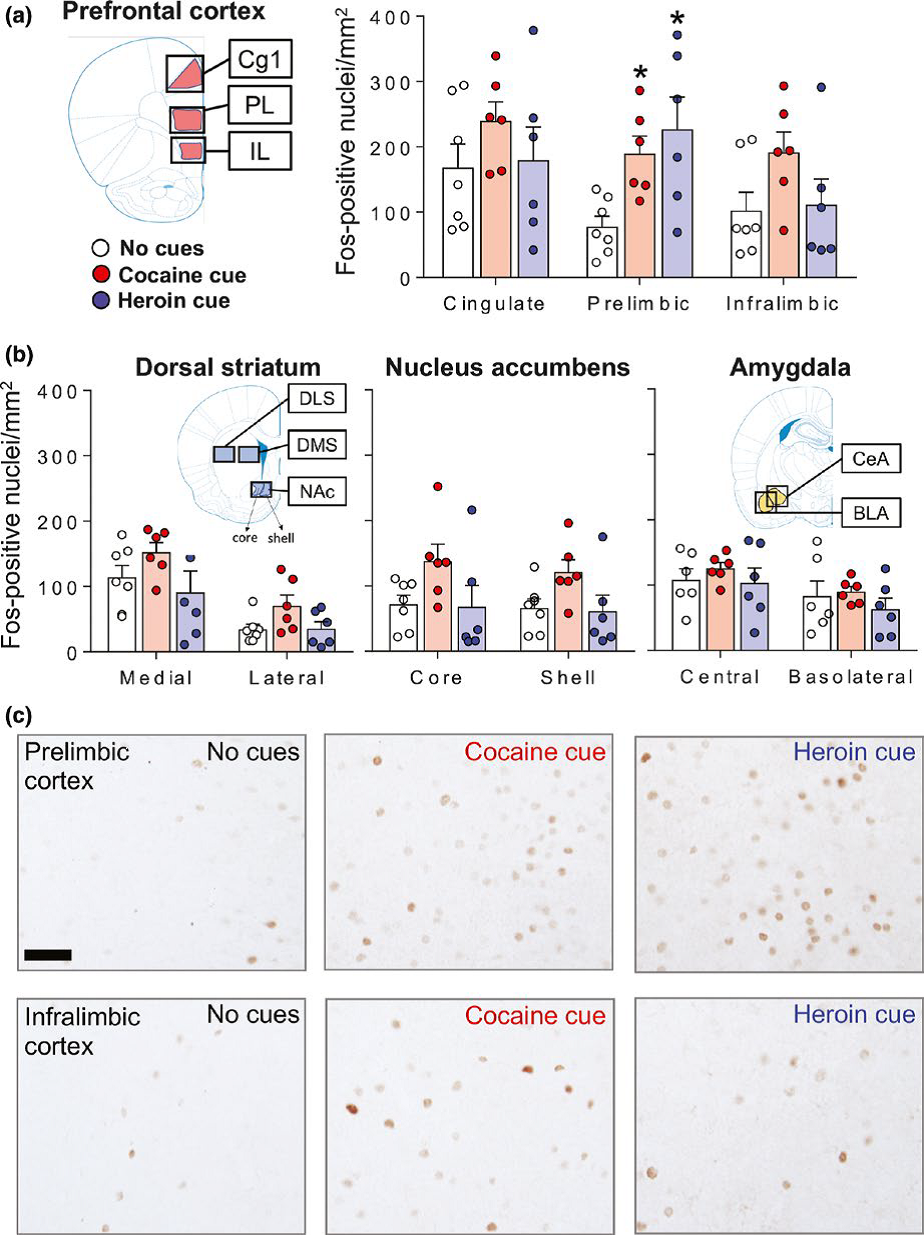 Fig 1 Cue-induced reinstatement of cocaine or heroin seeking is associated with Fos induction in the PL, but not in the other prefrontal cortical areas (Cg1 and IL), and not in the striatum or amygdala.
(a) Number of Fos-positive nuclei/mm2 (mean ± SEM) in mPFC (Cg1,PL, and IL subregions),
(b) dorsal striatum (medial and lateral subregions), nucleus accumbens (core and shell subregions), and amygdala (CeA and BLA subregions) for the no cues (n = 6–7), cocaine cue (n = 6),and heroin cue (n = 6) groups. *p < 0.05 relative to the no cues group. Images for each brain region were captured from the areas indicated by the outer black boxes on the coronal section schematics. The specific sampling areas used for quantifying Fospositive nuclei are indicated by the colored overlays.
(c) Representative images of Fospositive nuclei in PL and IL cortex.
Analysis of imaging technology
Dhyana 400DC camera was used to capture images of different regions in the brain in this experiment. It also showed excellent imaging ability in low light environment, which can effectively shorten the exposure time. The pixel size of 6.5μm can perfectly match the microscope, and it is one of the few color scientific cameras on the market. The results of the experiment will also help in the study of human addiction to heroin and cocaine.
Reference source
Rubio, F. J., Quintana-Feliciano, R., Warren, B. L., Li, X., Witonsky, K., Valle, F., Selvam, P. V., Caprioli, D., Venniro, M., Bossert, J. M., Shaham, Y., & Hope, B. T. (2019). Prelimbic cortex is a common brain area activated during cue-induced reinstatement of cocaine and heroin seeking in a polydrug self-administration rat model. The European journal of neuroscience, 49(2), 165–178.